 Hi and welcome to the Stella Starwoman November AstroUpdate!
I'm very excited to be heading off to Peru in a couple of weeks on a research trip to explore all the amazing megalithic monuments, plus the Nazca lines, elongated skulls, Maccu Pic'chu and their connections with earth and stellar energies. And of course I'll be reporting my findings in future editions of AstroUpdate complete with photos. 
As I'll be away for the first half of December and could do with a break, there will be no AstroUpdate next month, but you can always check in on my Facebook page to see what's going on in the cosmos. https://www.facebook.com/stellastarwoman/
Enjoy the beautiful spring/summer weather and I'll catch up with you in the New Year!
Stella xx
Jupiter in Scorpio & Sexual Harassment
In last month's newsletter, I wrote about Jupiter 's move into Scorpio in early October, saying: "All areas of life ruled by Scorpio will be fashionable or 'in the news' over the next 12 months. Scorpio themes include business, politics, finance & investment; courageous exposure of the truth regardless of consequences (think Wikileaks); all things esoteric, occult and mystical; research and development; death, rebirth and emotional transformation; the dark side of life and all things hidden, secret, illegal or taboo."
Interesting how this is playing out….firstly the 'Harvey goes to Hollywood' scandal sends worldwide ripples through the movie industry with dozens of women claiming to be victims of the movie producer's groping hands…then the scandal spreads wider as women all over the world break their silence on sexual harassment with the #MeToo. Now the British government is in crisis with today's Daily Telegraph headline: "Westminster Sex Scandal Claims Its First Scalp" as British Defence Minister Michael Fallon resigns due to 'inappropriate behaviour'.
This kind of stuff, as we all know, has been going on for years, but with Jupiter in Scorpio for a whole year, stay tuned for more exposure of things "hidden, secret, illegal or taboo ". And this is just the tip of the iceberg. One wonders what might happen to US President Donald Trump, a man who has bragged openly about sexually assaulting women and who, throughout his campaign, taunted women in sexually discriminatory ways.
Oh and did I mention Scorpio rules the sex organs? 
Beltane Fire Festival
Nature lovers celebrate the festival of Beltane at the start of November marking the magical transition from spring to summer. Beltane honours fertility as the days grow longer and the nights grow warmer – think nesting birds, mating livestock, blossoming trees and buzzing bees. Or think – Spring Racing Carnival! Enthusiasm for work tends to wane at this time of year and traditionally anything goes during this holiday season so use your imagination! 
Full Moon in Taurus – Creative Inspiration
The lunar qualities of emotion, instinct, and intuition reach their peak each month at the full moon, which this month falls on the 4th in sensual earth sign Taurus. There's a grand fire trine at the full moon (Saturn-Uranus-North Node) and the Scorpio sun conjuncts lucky Jupiter and trines Neptune. In practical terms this means we can reach for the stars by grounding our creative inspiration.
Venus-Mars Conjunction & Harvey Weinstein
When cosmic lovers Venus and Mars united in the heavens last month, their conjunction coincided with the launch of Australia's same sex marriage survey - a debate on whether all Australians should be allowed to officially sanction their love for and commitment to another person. By mid-November we should know the outcome. Venus and Mars are opposite polarities and both vital to a well-balanced relationship and society. At her highest level, Venus is the divine feminine, symbolising love, beauty, pleasure, kindness, intuition and caring. At his highest level, Mars is the divine masculine, symbolising power, protection, strength, logic, courage and action.
Enter Harvey Weinstein who, on the exact day of the Venus-Mars conjunction (5th/6th October) was exposed in the New York Times for displaying the worst possible side of Mars – aggression, violence, bullying and sexual harassment. Weinstein's exploits have gone viral. And who exposed him? His Venusian victims - the beautiful, young women of Hollywood. But Weinstein's not the only bad guy in town. Actor Sam Elliott has conveyed his disappointment about how "women in this town have been put upon by the men in this business the way they have for so long." Seems like the theme of this Venus-Mars cycle in fair-minded Virgo is all about redressing that balance. (photo courtesy of David Shankbone)
Mars in Libra – Catching Flies with Honey
Wilful warrior planet Mars continues his journey through peace-loving Libra right through to the 9th December. Mars brings energy and passion to whatever zodiac sign he visits, so if you're an artist or creative type, you might find yourself particularly inspired. And if you need to pull off some tricky diplomacy at work or with your family, now 's the time to make a move. It 's also a great time to tell someone how much you care. All you have to remember is Mars will help you get what you want and Libra will do it in a polite, pleasant and 'nice' way.
New Moon in Scorpio – A Time for Healing
The new lunar month begins on the 18th November at the Scorpio new moon with both sun and moon in this passionate water sign. A flowing angle to healing planet Chiron makes this a time for deep healing, forgiveness and release. Lucky planets Venus and Jupiter are also in Scorpio helping us let go and focus on the future.
Happy Birthday Sagittarius!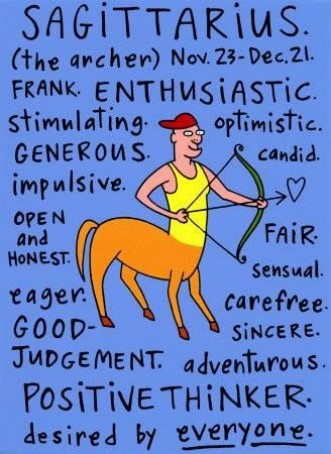 From 22nd November to 22nd December, the Sun travels through Sagittarius, an intuitive fire sign noted for its vision, adventurous nature and love of philosophy. Sagittarius is the ninth sign of the zodiac with keywords "I seek" and "I expand" and those born under the sign of the Archer often struggle to integrate their animal nature with their more lofty human side.
Sagittarians seek expansion on all levels, mental, physical, emotional and spiritual, and can usually be found travelling, studying and exploring life's big issues. They love to share their wisdom and are often talented writers or teachers. At best they are intelligent, honest, generous and inspirational. Negatively, they can be tactless, self- indulgent, coarse and hypocritical. Some Sagittarians are drifters, constantly in search of new horizons and ever more exciting adventures. Most Archers eventually realise that true freedom comes from commitment and dedication to a personal vision, rather than from the outer world.
Mercury Conjunct Saturn - Plan Your Holiday
Mercury's in flighty, fiery, adventure-loving Sagittarius at the moment, meaning we all want to do a hundred and one things at once! But in late November, Saturn (aka the boss/school principal/authority figure) will force Mercury to slow down, take stock and focus on ONE thing at a time. And what better Sagittarian occupation than planning your next holiday or weekend away?
Stella Away Next Month - No AstroUpdate
I'm very excited to be heading off to Peru in a couple of weeks on a research trip to explore all the amazing megalithic monuments, Nazca lines, Paracas elongated skulls, Maccu Pic'chu, Cusco, Lake Titicaca, Tiahuanaco and their links with earth and stellar energies. This means NO ASTROUPDATE in December, but you can always check my Facebook page to see what's going on in the cosmos. https://www.facebook.com/stellastarwoman/
Have a great festive season and see you in 2018!
November & December Moon Calendar
Launch projects at the New Moon, bring them to completion in the period from just before the Full Moon to the Third Quarter phase and wind them down and reflect on developments in the week before the next New Moon.
The period between the New Moon and the Full Moon is the waxing moon (moon getting bigger and fuller). The period between the Full Moon and the New Moon is the waning moon (moon getting smaller and thinner).
You can use this moon table to select the most favourable days to slow or increase hair regrowth. Full instructions can be found in my Lunar Hair Care guidelines but to get you started I've marked the best dates for waxing/shaving to slow regrowth in yellow and the best dates to cut hair for thicker, lusher growth in green. If you're serious about Lunar Hair Care – why not purchase a moon calendar, available at most esoteric book stores, then you'll know exactly what time of day the moon changes from one zodiac sign to the next, meaning you can fine-tune your activities with confidence.
| | | | |
| --- | --- | --- | --- |
| Date | Moon Sign | Element | Moon Phase |
| NOVEMBER |   |   |   |
| 1st | Pisces | Water |   |
| 1st -3rd | Aries | Fire |   |
| 3rd-5th | Taurus | Earth | Full Moon 4th |
| 5th-7th | Gemini | Air |   |
| 7th-9th | Cancer | Water |   |
| 9th-12th | Leo | Fire | Third Quarter |
| 12th-14th | Virgo | Earth |   |
| 14th-16th | Libra | Air |   |
| 16th-19th | Scorpio | Water | New Moon 18th |
| 19th-21st | Sagittarius | Fire |   |
| 21st-24th | Capricorn | Earth |   |
| 24th-26th | Aquarius | Air |   |
| 26th -29th | Pisces | Water | First Quarter |
| 29th -30th | Aries | Fire |   |
| | | | |
| --- | --- | --- | --- |
| Date | Moon Sign | Element | Moon Phase |
| DECEMBER |   |   |   |
| 1st | Aries | Fire |   |
| 1st -3rd | Taurus | Earth |   |
| 3rd-5th | Gemini | Air | Full Moon 4th |
| 5th-7th | Cancer | Water |   |
| 7th-9th | Leo | Fire |   |
| 9th-11th | Virgo | Earth | Third Quarter |
| 11th-14th | Libra | Air |   |
| 14th-16th | Scorpio | Water |   |
| 16th-19th | Sagittarius | Fire | New Moon 18th |
| 19th-21st | Capricorn | Earth |   |
| 21st-24th | Aquarius | Air |   |
| 24th-26th | Pisces | Water |   |
| 26th-28th | Aries | Fire | First Quarter |
| 28th -30th | Taurus | Earth |   |
| 30th -31st | Gemini | Air |   |
Thanks for being part of AstroUpdate. If there's something you'd like to see featured, or have something you think would interest others, please contact me at stella@stellastarwoman.com
PS – Don't forget to check out your June Stars at www.stellastarwoman.com

Happy Stargazing
Stella Woods
www.stellastarwoman.com