 Hi and welcome to the Stella Starwoman July AstroUpdate! Although the winter solstice is now behind us, the nights are still long – a great time to snuggle up in front of the fire!
Beating the Midwinter Blues
Welcome to the chill winds of midwinter and with four of the slower moving planets in retrograde motion, you may wonder if life has truly come to a standstill! Traditionally winter is a time of retreat and reflection and these retrograde planets simply add to that sense of stasis, with growth more likely to be on an internal rather than an external level. The advice is to spend as much time as possible with family and loved ones enjoying the peace, comfort and nourishment of a safe, warm and loving home. Use these long winter days to tie up loose ends and reflect on where you are heading.
Mars in Cancer – Heart Inspired Action
Mars will be in Cancer for the first three weeks of July, meaning actions will be based more on feelings and intuition rather than logic. Mars brings fighting spirit and energy to whichever zodiac sign he visits - Cancer themes include home, family, children, food, cooking, gardening, nurturing, healing and supporting. Expect a stronger focus on all these areas of life until 20th July. Perhaps you'll buy or sell a home; begin home improvements or renovations; spend more quality time with family or cook up a storm. And if you need to defend your home or family from outside threats, you'll have the courage to fight and win.
Sun-Mars Conjunction – Passion & Vitality
Every two years, the Sun, symbol of light and life, meets up with Mars the god of action to propel us into a new cycle of adventure and achievement. In 2017 this astronomical event takes place on the 27th July and is a particularly special and super-charged conjunction as the Sun and Mars will join forces in fire sign Leo for the first time since 2002. Think of the Sun as Chairman of the Board and Mars as the CEO. When they work together, they form a dynamic duo and extraordinary achievements are possible.
Some positive themes for the Sun-Mars combination include self-assertion; desire to take action; physical and sexual vitality; initiative and innovation; creative potential; love of risk, challenge and competition; supreme confidence and bravery; leadership and individuality. Negative themes include anger and aggression; anti-authoritarian attitude; needing to prove oneself; explosiveness and volatility; refusal to compromise; inner tension; compulsive behaviour and self-hatred.
What the Sun-Mars Conjunction Means For You
The Sun-Mars conjunction will play out in a different way for each person based on where it falls in your birth chart. Using the solar house system you can look up your star sign in the table below and see which area of your life will be most affected. So for example Sagittarians can expect exciting new beginnings in travel and study, while for Aquarians the focus is on relationships.
If you have a more detailed knowledge of astrological houses, you can also check the exact house position of 4-5º Leo in your birth chart and expect an exciting new beginning and surge of energy in this part of life as well. For example if the Sun-Mars conjunction falls in your tenth house (career), you might decide to start up a new business and if it's in your sixth house (health), you might start training for a triathlon.
2017 Sun-Mars Conjunction by Star Sign
Zodiac Sign
Area of Life Affected
 
Aries
Fifth House
Fun/Creativity
Creativity goes into overdrive. Fun, adventure and flirtation. Great time to conceive a child or discover your inner child
Taurus
Fourth House
Home/Family
Focus on creating a dream home and building loving family relationships. Renovating, decorating, buying property.
Gemini
Third House
Neighbourhood/
Communication
New visions and ideas; closer connection with neighbours and community; sorting out stuff with siblings; writing projects.
Cancer
Second House
Money/Values
New ways of earning and managing money. New sense of self-esteem and self-worth. Change in values and people you spend time with.
Leo
First House
The Self
Reach for the stars. Seize the day. Just do it. The universe is right behind you and your dreams this year.
Virgo
Twelfth House
Inner World
Inner peace; time alone; creative ideas and insight; getting rid of old stuff through emotional and physical decluttering.
Libra
Eleventh House
Social/Community
An exciting social life with new friends. More involvement with community groups. Networking opportunities abound.
Scorpio
Tenth House
Career
Promotions, pay rises, new jobs, new careers or even starting up your own business.
Sagittarius
Ninth House
Travel/Study
Book your dream holiday; expand your horizons with a new study course or overseas trip; write your book.
Capricorn
Eighth House
Investments/Joint
Ventures
Successful investment planning; new share portfolio; joint ventures and partnerships, new ways of managing debt.
Aquarius
Seventh House
Relationships
New relationships, new business partners or creative change in existing relationships.
Pisces
Sixth House
Health/Pets
New work environment; different approach to diet, health and fitness; healing chronic health problems; getting a new pet.
Happy Birthday Leo!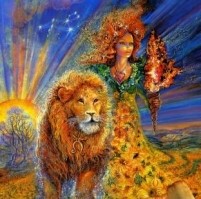 This year, the sun travels through fire sign Leo from 23rd July – 23rd August. Leo is the fifth sign of the zodiac with keywords "I express" and "I stand out". His symbol is the lion, king of the beasts, but also the beast within who must be subdued and civilised. Lions in art and myth are symbols of strength, supremacy, glory and brilliance and Leos are extremely creative and love to show off their talents. They are often attracted to the performing arts or any role where they can shine and lead others. At best they are loving, loyal, affectionate and sincere, displaying willpower, courage, dignity and leadership and radiating confidence. Negatively, Leos can be arrogant, bossy, vain and over-dramatic. Leo rules the heart, circulatory system and spine. When Leos are out of balance they can suffer from back pain, nervous palpitations, high blood pressure, fever, stroke and heart disease. The Leo colours are gold and orange. Leo is ruled by the Sun, so those with a prominent Sun in their chart often display Leo qualities. Leo's greatest lesson is to learn that they are not the centre of the universe. The true leader is the servant of all!
Celebrating the Return of the Light
Rituals mark the passage of time and can help us celebrate and understand our part in the universal cycle of life. The final day of July is the eve of Imbolc, a traditional pagan or country festival meaning 'in the belly'. In the womb of Mothe r Earth, there are stirrings of new life. The seed that was planted at the winter solstice in June is quickening and spring is just around the corner. 'Oimelc', an alternative name for the festival, means 'milk of ewes', for this is also lambing season.
To celebrate the return of the light as the days grow longer, light a blue candle and place it in the centre of your home. Blue represents peace, wisdom, communication, truth, patience, health and calm. Fill a small bowl with water and add a pinch of salt for protection and purification. Follow this with a few drops of your favourite essential oil – something calming like rose, lavender or bergamot is a good choice. Next, tie together a small bunch of herbs and beginning at the front door, dip the herbs in the water and wipe them gently round the door frame. Continue to do this to all doorways and windows in the house visualising the protection and peace spreading from the front door to the rest of your home. When you have finished, leave the bowl of water out overnight to anchor the protection and let the bunch of herbs dry before burning it in the candle flame.
July Full Moon & New Moon


The lunar qualities of emotion, instinct and intuition reach their peak each month at the full moon, which in July falls on the 9th in earth sign Capricorn. This promises to be a power- packed lunation with dynamic Mars and transformational Pluto conjunct the sun and full moon. Seeds planted at last month's new moon on the 24th June will blossom and flourish but, with the Mars-Pluto opposition, you could find yourself embroiled in arguments and power plays. Avoid losing your cool by channelling the cosmic energy into physical activity.
The new lunar month begins on the 23rd at the Leo new moon and if ever there were a moment to launch some spectacular project or fulfil a long held ambition, this is it. The moon and sun are closely aligned with Mars in the early degrees of Leo, symbol of the leader, king, drama queen, performer, champion and hero. This Leo line-up positively brims with fire, passion and creative energy while Mercury trine Uranus offers fresh and original ideas. Mix this all together and you should feel fired up, courageous, daring and ready for absolutely anything!
July & August Moon Calendar
Launch projects at the New Moon, bring them to completion in the period from just before the Full Moon to the Third Quarter phase and wind them down and reflect on developments in the week before the next New Moon.
The period between the New Moon and the Full Moon is the waxing moon (moon getting bigger and fuller). The period between the Full Moon and the New Moon is the waning moon (moon getting smaller and thinner).
You can use this moon table to select the most favourable days to slow or increase hair regrowth. Full instructions can be found in my Lunar Hair Care guidelines but to get you started I've marked the best dates for waxing/shaving to slow regrowth in yellow and the best dates to cut hair for thicker, lusher growth in green. If you're serious about Lunar Hair Care – why not purchase a moon calendar, available at most esoteric book stores, then you'll know exactly what time of day the moon changes from one zodiac sign to the next, meaning you can fine-tune your activities with confidence.
| | | | |
| --- | --- | --- | --- |
| Date | Moon Sign | Element | Moon Phase |
| JULY |   |   |   |
| 1st-3rd    | Libra | Air | First Quarter |
| 3rd-5th | Scorpio | Water |   |
| 5th-8th | Sagittarius | Fire |   |
| 8th-10th | Capricorn | Earth | Full Moon 9th |
| 10th-13th   | Aquarius | Air |   |
| 13th-15th | Pisces | Water |   |
| 15th-17th | Aries | Fire | Third Quarter |
| 17th-19th | Taurus | Earth |   |
| 19th-21st   | Gemini | Air |   |
| 21st-23rd | Cancer | Water |   |
| 23rd-25th | Leo | Fire | New Moon 23rd |
| 26th-28th | Virgo | Earth |   |
| 28th-30th | Libra | Air |   |
| 30th-1st | Scorpio | Water | First Quarter |
AUGUST

 

 

 

Date

Moon Sign

Element

Moon Phase

1st

Scorpio

Water

 

1st-4th

Sagittarius

Fire

 

4

th

-6

th

Capricorn

Earth

 

6th-9th

Aquarius

Air

Full Moon 8th
(Lunar Eclipse)

9th-11th

Pisces

Water

 

11th-13th

Aries

Fire

 

13th-16th

Taurus

Earth

Third Quarter

16th-18th

Gemini

Air

 

18th-20th

Cancer

Water

 

20th-22nd

Leo

Fire

 

New Moon 22nd
(Solar Eclipse)

22nd-24th

Virgo

Earth

 

24th – 26th

Libra

Air

New Moon 23rd

26th-29th

Scorpio

Water

 

29th-31st

Sagittarius

Fire

First Quarter
Thanks for being part of AstroUpdate. If there's something you'd like to see featured, or have something you think would interest others, please contact me at stella@stellastarwoman.com
PS – Don't forget to check out your June Stars at www.stellastarwoman.com

Happy Stargazing
Stella Woods
www.stellastarwoman.com