 Special Christmas Offer - Buy One Get One Free!
Everyone loves a special offer and this month I have two special Christmas offers for you valid right through December!
OFFER ONE FREE MAGIC CARD DECK WITH EVERY BOOK PURCHASED
Purchase a copy of my full colour, hard copy book The Seven Secrets of Magic & Manifestation (RRP $34.95) before the 31st December 2016 and I will send you a beautiful, gilt-edged Magic Affirmation Card Deck (RRP $29.95) ABSOLUTELY FREE!
OFFER TWO TWO MAGIC CARD DECKS FOR THE PRICE OF ONE
Purchase a beautiful, gilt-edged Magic Affirmation Card Deck (RRP $29.95) before the 31st December 2016 and I will send you another deck ABSOLUTELY FREE!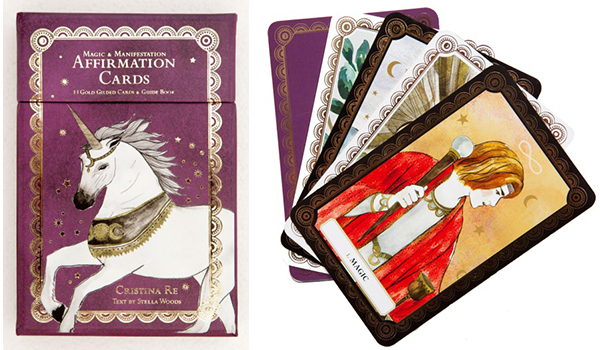 The book and cards are quality stand-alone products, so you could keep the book for yourself and give the cards as a gift.... OR you could order two sets and keep one for yourself...
TO TAKE ADVANTAGE OF THESE SPECIAL OFFERS CLICK ON THE LINKS BELOW
SPECIAL OFFER ONE
Magic & Manifestation Book + Free Card Deck - ONLY $34.95 +P&P
SPECIAL OFFER TWO
Affirmation Card Deck - Buy One, Get One Free - ONLY $29.95 +P&P
Offer expires 31st December 2016
Venus in Aquarius
Kinky, Quirky & Unpredictable
Venus rules love, beauty, creativity, money and pleasure meaning that when she sashays through quirky and unpredictable Aquarius, anything could happen. Venus will be flirting with Aquarius from 8th December right through to the New Year, so watch out! If you've fallen in a rut, she'll tease you with the promise of brighter and shinier things. Stay one step ahead of her by planning something new, different or exciting over the holiday season.
Gemini Full Moon – The Creative Power of Spirit
The December full moon falls on the 14th in air sign Gemini (22-23°). The Sabian Symbol for this full moon shows three fledglings in a nest high in a tree. These young birds symbolise the Divine Trinity and, in particular, the integration of the creative power of the spirit. As the moon reaches fullness, she forms a mystic rectangle with the Sun, Saturn, Uranus and Jupiter offering enormous potential for the creative and constructive use of your own unique, natural talents.
Mercury Retrograde – Unfinished Business
From 19th December to 8th January, communication planet Mercury will be travelling backwards through earth sign Capricorn. When Mercury is retrograde, our unconscious and intuitive sides are particularly active and the best laid plans often come to a halt as events take on a life of their own. Mercury retrograde can be a time of frustration and misunderstandings when things keep going wrong or breaking down. You may also need to complete unfinished business that's preventing you from moving forward. And as Mercury travels backwards through practical Capricorn, ask yourself: "How can I be more authentic, responsible, accountable and productive?
Celebrating the Summer Solstice
For thousands of years, people all over the world have celebrated the first day of summer also known as Midsummer Day, St. John's Day, Litha or the Summer Solstice. Sol + stice derive from a combination of Latin words meaning "sun" + "to stand still". As the days grow longer, the sun rises higher in the sky until it seems to stand still marking the longest day and shortest night of the year. This year our Australian summer solstice falls on the 21st December, a time to relish the fullness of life and raise our energy to create abundance and manifest dreams.
Here are some ideas for celebrating this special time of year and keeping those spiritual fires burning right through to autumn.
Get up early, head to the beach or hills and greet the dawn with friends and enjoy a special breakfast or perhaps a bit of chanting and yoga, followed by a refreshing swim.
Prepare a picnic feast or barbecue on the eve of the solstice. Make a Sun Wheel by creating a large wreath with flowers, twigs and moss. Then get some strips of paper and have your friends write a wish on it and tie it to the wreath.
Light some brightly coloured candles and create your own Altar of Light surrounded by luscious summer fruits and flowers. Meditate on all you have to be grateful for at this special time of year.
Put some fresh herbs and flowers in a jar full of water then cover and leave in the sun to make a magical potion to use as you will!
If you live in an area where you can light fires, invite friends to a summer bonfire party with singing, dancing and drumming. Throw fresh local herbs into the fire as you each make a wish.
For a more personal celebration, light a white candle in front of a mirror at dawn and give thanks for the gift of light and life.
Gather or buy some yellow and orange flowers and make a Sun Mandala. Pick the petals off the flowers and arrange them in circular patterns. The act of creating something beautiful and sacred is both healing and relaxing.
Head to the beach, lake or river to celebrate the great outdoors and your connection with nature and the cosmos. And finally, why not make some flower wreaths? You can't help but feel beautiful with flowers in your hair!
Sun in Capricorn
 Shrewdness, Self-Discipline & Determination
From 21st December to the 20th January, the sun travels through earth sign Capricorn, noted for her shrewdness, self-discipline, determination and respect for tradition and authority. Capricorns have practical and executive ability, are very responsible and love status. They are prepared to work incredibly hard to achieve their dreams and goals. But those born under the sign of the Goat often lead a solitary existence, feeling burdened by the responsibility they carry and struggling with the limitations of material life. At best they use their leadership skills to serve the community and act as pillars of strength for friends and family, believing patient, hard work brings its own rewards. The Capricorn colours are brown and black. Capricorn's greatest lesson is to lighten up and express feelings and emotions.
Capricorn New Moon
Set Your New Year Intentions
The December new moon falls on the 29th in earth sign Capricorn, the time of year when we reflect on the past and wonder what the future might bring. This new moon is full of ideas and promise, but achieving dreams and goals requires hard work and dedication. Cast your mind back to this time last year and reflect on how far you have come, and then set your intentions for 2017. With Mercury still retrograde, you will instinctively know what is most important.
December & January Moon Calendar
Launch projects at the New Moon, bring them to completion in the period from just before the Full Moon to the Third Quarter phase and wind them down and reflect on developments in the week before the next New Moon.
The period between the New Moon and the Full Moon is the waxing moon (moon getting bigger and fuller). The period between the Full Moon and the New Moon is the waning moon (moon getting smaller and thinner).
You can use this moon table to select the most favourable days to slow or increase hair regrowth. Full instructions can be found in my Lunar Hair Care guidelines at www.stellastarwoman.com/files/LunarHairCare.pdf but to get you started I've marked the best dates for waxing/shaving to slow regrowth in yellow and the best dates to cut hair for thicker, lusher growth in green. If you're serious about Lunar Hair Care – why not purchase a moon calendar – available at most esoteric stores - then you'll know exactly what time of day the moon changes from one zodiac sign to the next, meaning you can fine-tune your activities with confidence.
| | | | |
| --- | --- | --- | --- |
| Date | Moon Sign | Element | Moon Phase |
| DECEMBER |   |   |   |
| 1st | Sagittarius | Fire |   |
| 1st – 4th | Capricorn | Earth |   |
| 4th - 6th | Aquarius | Air |   |
| 6th - 8th | Pisces | Water | First Quarter |
| 8th-10th | Aries | Fire |   |
| 11th-12th | Taurus | Earth |   |
| 13th-14th | Gemini | Air | Full Moon 14th |
| 15th-16th | Cancer | Water |   |
| 17th-19th | Leo | Fire |   |
| 19th-21st | Virgo | Earth | Third Quarter |
| 21st -24th | Libra | Air |   |
| 24th-26th | Scorpio | Water |   |
| 26th-29th | Sagittarius | Fire |   |
| 29th-31st | Capricorn | Earth | New Moon 29th |
| JANUARY |   |   |   |
| 1st-2nd | Aquarius | Air |   |
| 2nd- 5th | Pisces | Water |   |
| 5th-7th | Aries | Fire | First Quarter |
| 7th-9th | Taurus | Earth |   |
| 9th-11th | Gemini | Air |   |
| 11th-13th | Cancer | Water | Full Moon 12th |
| 13th-15th | Leo | Fire |   |
| 15th-17th | Virgo | Earth |   |
| 17th-20th | Libra | Air |   |
| 20th-22nd | Scorpio | Water | Third Quarter |
| 22nd-25th | Sagittarius | Fire |   |
| 25th-27th | Capricorn | Earth |   |
| 27th-30th | Aquarius | Air | New Moon 28th |
| 30th-1st | Pisces | Water |   |

Thanks for being part of AstroUpdate. If there's something you'd like to see featured, or have something you think would interest others, please contact me at stella@stellastarwoman.com
PS – Don't forget to check out your December Monthly Stars at www.stellastarwoman.com to see what's coming up this month.
Happy Stargazing & Happy Christmas to you all.
Stella Woods
www.stellastarwoman.com