 Hi and welcome to the Stella Starwoman May AstroUpdate! An action-packed edition this month as we welcome the cooler autumn days and the warmth of Samhain…
Samhain – Light Up the Bonfire!
Samhain or "Summer's End" is an ancient Celtic fire festival, celebrated at the beginning of May in the southern hemisphere. The Celts divided the year into two seasons, the light half and the dark half, with Samhain marking the gateway to the darker days of winter, and a magical time of passage between the seasons. The veil between this world and other dimensions is supposedly very thin and those born at this time of the year are said to have the gift of second sight or clairvoyance. Samhain is a good time to go within and meditate and then literally and metaphorically get rid of dead wood. A backyard bonfire with friends followed by a feast with warming seasonal food and mulled wine or spiced cider is a great way of doing this. Here's my favourite mulled wine recipe!
Making Your Own Mulled Wine
One bottle or cask of red wine
Grated zest of 1 orange and 1 lemon
Remainder of 1 orange and 1 lemon cut into slices
1 tsp ground nutmeg
2 tsp ground ginger
5 whole cloves
3 cinnamon sticks
100 g sugar (or honey to taste)
2/3 cup brandy/cognac
1 cup water or orange juice
Combine all ingredients in a large pan. Gently warm the ingredients on low to medium heat on the stove (avoid boiling), for 20-25 minutes. Stir occasionally to make sure that the honey or sugar has completely dissolved. When the mixture is steaming and the ingredients have blended well, the mulled wine is ready to serve. Ladle into mugs (leaving seasonings behind) and drink round the bonfire.
Mercury Direct – Back on Track
Communication planet Mercury has been travelling backwards through Taurus and Aries since mid-April, pushing us to deal with unfinished business and pay attention to hunches and gut feelings. When Mercury is retrograde, our unconscious and intuitive sides are extremely active and the best laid plans often come to a halt as events take on a life of their own. On 5th May, Mercury comes to a halt and starts moving forwards again helping us make sense of the events of the past three weeks….and you never know - that missing phone charger could well resurface!
Scorpio Full Moon – Rebirth & Transformation
The May full moon falls on the 11th in passionate water sign Scorpio opposite the sun in fertile earth sign Taurus. With Pluto aligned to both sun and moon, the theme of this full moon is death, rebirth and transformation offering you a chance to apply this to your own life. The May full moon is also known as the Wesak moon, marking Buddha's birth and enlightenment.
Buddha – Man of Extremes?
According to Siddhartha Gautama, the spiritual teacher and founder of Buddhism, those seeking the path to liberation and wisdom must follow 'The Middle Way'. The Buddha (meaning 'enlightened one') describes the middle way as a path of moderation between the extremes of sensual indulgence and self-mortification. Buddha's birthday is celebrated at the May full moon (Wesak Moon) which in Western astrology means he has the Sun in Taurus and Moon in Scorpio, both fixed zodiac signs known for their tendency to go to extremes. The big lesson for Taurus is to let go of material attachment. The big lesson for Scorpio is to let go of emotional attachment. No wonder Buddha needed to learn the importance of 'The Middle Way'!
Fire Grand Trine - Smashing Through Barriers
May can be a bit of a sluggish month as temperatures fall and nights grown longer… but this month the universe has a secret up her sleeve! If you've been wanting to get something practical done (trimming your waistline; new business plan; writing that novel; painting the spare room) but have struggled to find the motivation, Saturn, Uranus and the North Node will give you a massive boost via a stellar partnership lasting the whole of May. Uranus at his best is a superhero – smashing through barriers and physical limitations; illuminating new possibilities and waving the magic wand to make things happen. Saturn at his best is the dutiful employee who gets the job done on time to the highest of standards. And the North Node in Leo will get you meeting the right people, in the right places at the right time!
What are you waiting for?
Mercury in Taurus – Practical Decisions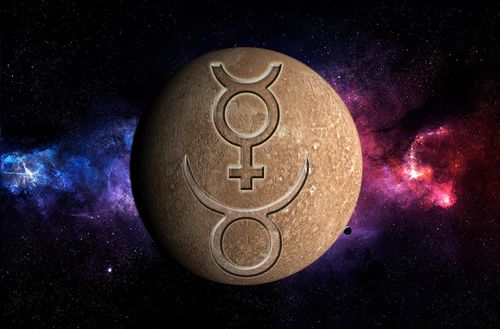 Communication planet Mercury heads into practical Taurus on the 16th May for the next three weeks helping us make clear and calculated decisions. Mercury in Taurus is especially good for tackling stuff like bookkeeping, administrative tasks, building plans, garden design and any activity that requires a tangible and practical result.
Happy Birthday Gemini!
From the 21st May to the 21st June the Sun travels through mutable air sign Gemini, the third sign of the zodiac with keywords "I think" and "I communicate". Gemini's symbol is the twins, one mortal, one immortal, representing the dark and light side of life. Geminis are extremely curious and like to accumulate information and process data. They think at lightning speed, are versatile and adaptable and love gadgets, social media and the internet. Geminis need lots of intellectual stimulation and often have a youthful appearance. Negatively, the Gemini individual can be fickle and nervous with scattered energy and a tendency to gossip or make cutting remarks. Some are over-reliant on logic and dismiss emotions as irrational or unimportant. When Geminis are out of balance they can suffer from problems in the lungs, arms, shoulders and hands or experience mental imbalance. Gemini's greatest challenge is to learn constancy and mental discipline and accept the importance of emotions and feelings in both themselves and others. Happy birthday to all Geminis!
Gemini New Moon – Stand Your Ground
New moons are all about new beginnings. The May new moon falls on the 26th in Gemini bringing fresh ideas and insight. However feisty Mars opposes Saturn at this new moon, meaning you could encounter obstacles. Not everyone will agree with your point of view, so be prepared to stand up and fight!
May & June Moon Calendar
Launch projects at the New Moon, bring them to completion in the period from just before the Full Moon to the Third Quarter phase and wind them down and reflect on developments in the week before the next New Moon.
The period between the New Moon and the Full Moon is the waxing moon (moon getting bigger and fuller). The period between the Full Moon and the New Moon is the waning moon (moon getting smaller and thinner).
You can use this moon table to select the most favourable days to slow or increase hair regrowth. Full instructions can be found in my Lunar Hair Care guidelines but to get you started I've marked the best dates for waxing/shaving to slow regrowth in yellow and the best dates to cut hair for thicker, lusher growth in green. If you're serious about Lunar Hair Care – why not purchase a moon calendar, available at most esoteric book stores, then you'll know exactly what time of day the moon changes from one zodiac sign to the next, meaning you can fine-tune your activities with confidence.
| | | | |
| --- | --- | --- | --- |
| Date | Moon Sign | Element | Moon Phase |
| May |   |   |   |
| 1st-2nd | Cancer | Water |   |
| 2nd- 4th | Leo | Fire | First Quarter |
| 4th-7th | Virgo | Earth |   |
| 7th-9th | Libra | Air |   |
| 9th-12th | Scorpio | Water | Full Moon 11th |
| 12th-14th | Sagittarius | Fire |   |
| 14th-17th | Capricorn | Earth |   |
| 17th-19th | Aquarius | Air | Third Quarter |
| 19th-21st | Pisces | Water |   |
| 21st – 23rd | Aries | Fire |   |
| 23rd-25th | Taurus | Earth |   |
| 25th-27th | Gemini | Air | New Moon 26th |
| 27th-29th | Cancer | Water |   |
| 29th-1st | Leo | Fire |   |
| 1st-2nd | Cancer | Water |   |
| | | | |
| --- | --- | --- | --- |
| JUNE | Sign | Element | Moon Phase |
| 1st | Leo | Fire |   |
| 1st-3rd | Virgo | Earth | First Quarter |
| 3rd-5th | Libra | Air |   |
| 5th-8th | Scorpio | Water |   |
| 8th-10th | Sagittarius | Fire | Full Moon 9th |
| 10th-13th | Capricorn | Earth |   |
| 13th-15th | Aquarius | Air |   |
| 15th-18th | Pisces | Water | Third Quarter |
| 18th-20th | Aries | Fire |   |
| 20th– 22nd | Taurus | Earth |   |
| 22nd-24th | Gemini | Air |   |
| 24th-26th | Cancer | Water | New Moon 24th |
| 26th-28th | Leo | Fire |   |
| 28th-30th | Virgo | Earth |   |
| 30th-3rd | Libra | Air |   |
Thanks for being part of AstroUpdate. If there's something you'd like to see featured, or have something you think would interest others, please contact me at stella@stellastarwoman.com
PS – Don't forget to check out your May Stars at www.stellastarwoman.com

Happy Stargazing
Stella Woods
www.stellastarwoman.com