Welcome to the Stella Starwoman June AstroUpdate! Last month's article on The Moon and your Mood, was so popular, I've decided to feature the moon activity table again this month so you can plan your monthly activities according to the sign of the transiting moon, which changes every two and half days. To find out where the moon is on any given day, use a moon calendar or diary or simply check the moon tables in AstroUpdate.
And if any of you would like an astrology or tarot reading either by phone, Skype or in person (I'm based in St Kilda, Melbourne), please give me a call on 03 9534 5021 or send an email to stella@stellastarwoman.com - full price list is below.
Astrology for Beginners 15-Week Intensive Starts Wednesday 26 th August in Melbourne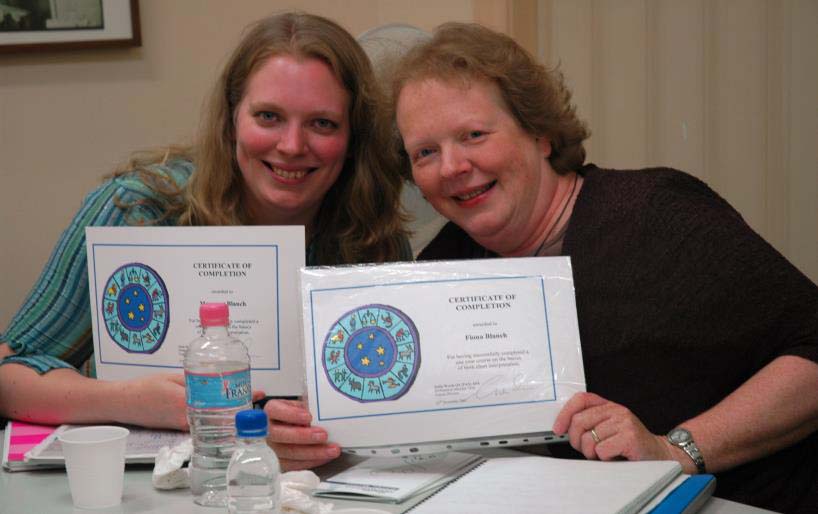 If you read AstroUpdate, you probably love astrology – well why not learn more about it? I'm running a fifteen week astrology course starting on 26 th August and my aim is to teach you the basics of birth chart interpretation so you can impress family and friends and of course learn all about your own chart. My courses are a lot of fun – there is some homework, but basically you'll get out of it what you put into it. I'll be teaching you all about the elements and qualities; the twelve signs and houses of the zodiac; the sun, moon and planets plus advice on how to put it all together. And you get a 100 page course manual included in the price plus a copy of your own birth chart. No prior experience is required and everyone is welcome. If you'd like to join up or find out more here are all the details. AND…. please don't leave it until the last minute as I will only run the course if enough people are interested and make a firm booking!
Dates: Wed 26 th Aug – Wed 9 th Dec 2015 (7.15 – 9.15 pm) Cost: $750 (single payment – save $100) OR two instalments of $425 ($850) Venue Elwood Learning Centre, 87 Tennyson St, Elwood, Melbourne
Bookings: Call Stella on 03 9534 5021 with your CREDIT CARD details or BOOK ONLINE with Paypal/Visa/Mastercard or BANK TRANSFER to Account Name: Stella Starwoman, BSB 063-131 Account Number 1009 0630 Read more about this course including student testimonials HERE
Mercury Retrograde
Mercury is the fastest moving planet in our solar system, orbiting very close to the Sun. In Roman mythology, quicksilver Mercury with his magical winged sandals and helmet was the Messenger of the Gods. He carried messages between gods and humans and was even able to communicate with those who dwelled in the underworld. In astrology, Mercury is the planet of communication, helping us put our thoughts into words; plan our daily activities; interact with one another and explore new ideas and information.
Every four months, for 22 days the planet Mercury appears to slow down, change direction and start travelling backwards. Astrologers refer to this period as 'Mercury Retrograde'. From 19th May to 12th June, Mercury can be seen travelling backwards through air sign Gemini. When Mercury is retrograde, our unconscious and intuitive sides are particularly active and the best laid plans often come to a halt as events take on a life of their own! We are asked to go within (to the underworld or unconscious) and meditate and reflect, rather than pushing forwards with life in the outer world. Mercury retrograde can be a time of frustration and misunderstandings when things keep going wrong or breaking down. If this happens to you, take it as a sign to be more conscious of things you've been ignoring or are perhaps unaware of. You may also need to complete unfinished business that's preventing you from 'moving forwards'. Mercury retrograde brings hidden information to the surface, forcing us (or helping us) to see the truth. During this retrograde cycle, Mercury makes a challenging aspect (angle) to Neptune, adding the possibility of self-delusion and disappointment to the mix, however Neptune can also open up gateways to inspired creativity, spiritual growth and deep insight. As Mercury travels backwards through Gemini, ask yourself: "How can I maintain a balance between head and my heart and better speak my truth?
If you'd like to see an astro diagram of Mercury Retrograde in action, I've made a short five minute video – check it out at this link. https://www.youtube.com/watch?v=g2bt0lFRDwQ
Sun-Mars Conjunction
Every two years, the Sun, symbol of light, power and life, aligns with Mars the action-packed god of war to propel us into a new cycle of action and adventure. In 2015 this astronomical event takes place on the 15th June as the Sun and Mars join forces in air sign Gemini for the first time since June 1983. Think of the Sun as Chairman of the Board and Mars as the CEO. When they work together, they form a dynamic duo and extraordinary achievements are possible. Some positive themes for Sun-Mars in Gemini include mental prowess and brilliance; new thought patterns and ideas; creative solutions to old problems; initiative, innovation and negotiation; practical implementation of ideals; constructive diplomacy; new communication strategies and new technologies. Negative themes include extreme anger and verbal aggression; wounding with words; anarchy without constructive solutions; intellectual superiority; scattered mental energy; fundamentalist dogma; intolerance and biting criticism.
The conjunction occurs at 23-24º Gemini with the Sabian Symbol, 'Children Skating Over A Frozen Village Pond' suggesting that challenging or unusual circumstances help increase our strength and skill, turn challenges into opportunities and adapt creatively to our environment. With this in mind I suggest you mark the 15th June in your diary as the beginning of a two-year cycle where the way you use your mind and channel your thoughts will make a real difference, providing you listen to and follow your inner voice. On a global level we will see both positive and negative examples of people and governments taking action in accordance with this Sun-Mars energy.
The Moon and Your Mood
Stella Starwoman Product Range
PRODUCT
Illustrated Astrology Report
PRICE
$50 electronic or $80 hard copy
Choose from any one of the following reports or order four reports for the price of three 1. Personal Birth Chart – Your Path To Self Awareness 2. Twelve Month Forecast - Navigating The Year Ahead 3. Health & Wellbeing - Boost Your Self Esteem & Vitality 4. Career & Vocation - Are You On The Right Track? 5. Inner Goddess – Discover Your Inner Mystery & Hidden Potential 6. Couple Compatibility – The Joys & Challenges of Your Relationship 7. Zodiac Child – Understanding The Child in Your Life 8. Kindred Spirits – Uncover Your Karmic Relationship Patterns (Family, Friends, Lovers)
-Half Hour Astrology Phone Consultation with CD -  $90 -One Hour Tarot Reading with CD - $150 -Full Birth Chart Consultation with CD & Report $250 ($225 for 3RRR subscribers) -Twelve Month Forecast with CD & Report - $250 ($225 for 3RRR subscribers) -Astrology/Tarot Combo Deluxe Consultation - $300 ($270 for 3RRR subscribers) -Compatibility Profile (Business or Personal) - $300 ($270 for 3RRR subscribers) -Zodiac Child Reading - Guidance for Parents  $220 ($200 for 3RRR subscribers) -Astrology for Beginners - $750 for 15 week course -Magic & Manifestation Course - $395 for 10 week course -Tarot Workshops - $125 half day workshop (4 hours) -Attracting the Perfect Partner - $125 half day workshop (4 hours)
For more information or to make a booking, please visit www.stellastarwoman.com or contact Stella on (03) 9534 5021 or email stella@stellastarwoman.com
Stella Starwoman PO Box 2282, St Kilda West VIC 3182 Australia
Winter Solstice
Our cosy heaters and warm fires help make the colder months warm and comfortable. Many of us look forward to the slower pace of winter days. Not so our ancestors, who feared the cold and bitter winter, understanding the challenges of finding food and keeping warm. The midwinter solstice was a vital turning point in the seasonal calendar, marking the longest night of the year; from midwinter to the summer solstice six months later, the nights would grow shorter and the days longer. In Australia, our winter solstice is marked by the passage of the sun into Cancer on the 22nd June. Observe the point at which the sun rises from the 22 nd -24 th June and you will see that it is in exactly the same place over these three days. Solstice means "sun standing still". Now is the perfect time for a ritual to cleanse and release old energy and honour winter, the season of death and decay. On the eve of the winter solstice, surround yourself with all things nourishing: the warmth of an open fire, brightly coloured candles, piping hot food and the company of close friends and loved ones. Sip warm spiced teas and mulled wine and decorate your home with winter greenery. Acknowledge and celebrate the gift of life on the longest night of the year.
A Magical Winter Solstice Ritual -Bowl of water & Large Candle -Small Candle for each person -Glitter & Essential Oils -Wine / Juice
Sit in a circle with a bowl of water and a large candle in the centre. Have some golden glitter and scented oil nearby. Give each person a small candle or tea light then light all the candles including the central one. Next go round the circle with each person saying out loud what they wish to release at this dark time of the year then blowing out their candle once they have finished speaking. Finally blow out the central candle and sit in the darkness reflecting on what is being left behind. After a long silence, relight the central candle (rebirth of the sun) and sprinkle golden glitter on the water. Picture the sun rising to conquer the darkness and our ability to create new light and life through the warmth of your thoughts, words and deeds. Each person then lights their small candle from the central candle and places it by the bowl of water. Pass around a glass of wine or juice and offer a toast to the sun, the bringer of new light, with each person talking about a dream for the future or a new attitude they wish to embrace. Finally sprinkle scented oil on the water and choose someone to anoint each person with sunshine by dipping their hand into the sparkling, scented water and sprinkling it over each person's hair. Hold hands and offer thanks.
Happy Winter Solstice!
Featured Sign-Gemini
From the 21st May to the 22nd June the Sun travels through mutable air sign Gemini. Gemini is the third sign of the zodiac with keywords "I think" and "I communicate". Gemini's symbol is the twins, one mortal, one immortal, the dark side and the light side. Geminis are extremely curious and like to accumulate information and process data. They think at lightning speed, are versatile and adaptable and love gadgets, mobile phones, books and surfing the net. Easily bored, Geminis need lots of intellectual stimulation and often have a youthful appearance. Negatively, the Gemini individual can be fickle and nervous with scattered energy and a tendency to gossip or make cutting remarks. Some are over-reliant on logic and dismiss emotions as irrational or unimportant. When Geminis are out of balance they suffer from nervous tension or problems in the lungs, arms, shoulders and hands. Gemini's greatest challenge is to learn constancy and mental discipline and to accept the importance of emotions and feelings in both themselves and others.
June Full Moon & New Moon
This month's full moon falls on the 3rd June in dynamic fire sign Sagittarius with the theme of freedom / flexibility. Here are a few ideas to make the most of it!
-Do something adventurous and fun -Go camping or plan a road trip with friends -Read to learn about new ideas and expand your mind -Seek out new people and places -Play sport and enjoy time outdoors -Study a new language or book an overseas trip
The June New Moon falls on the 17 th in rational air sign Gemini.
The Gemini new moon will be conjunct fiery Mars promising an action-packed month ahead. Ego-energies will be running high, so if you're feeling emotional, angry or unbalanced, take time out to work out what's really going on. Gemini excels at seeing both sides of a situation, but the advice at this full moon is 'watch your tongue'!
June Moon Calendar
Launch projects at the New Moon, bring them to completion in the period from just before the Full Moon to the Third Quarter phase and wind them down and reflect on developments in the week before the next New Moon. The period between the New Moon and the Full Moon is the waxing moon (moon getting bigger and fuller). The period between the Full Moon and the New Moon is the waning moon (moon getting smaller and thinner).
You can use this moon table to select the most favourable days to slow or increase hair regrowth. Full instructions can be found in my Lunar Hair Care guidelines at www.stellastarwoman.com/files/LunarHairCare.pdf but to get you started I've marked the best dates for waxing/shaving to slow regrowth in yellow and the best dates to cut hair for thicker, lusher growth in green. If you're serious about Lunar Hair Care - order your own Moon Calendar from the Stella Starwoman Store then you'll know exactly what time of day the moon changes from one zodiac sign to the next meaning you can fine-tune your activities with confidence.
Thanks for being part of AstroUpdate. If there's something you'd like to see featured, or have something you think would interest others, please contact me at stella@stellastarwoman.com
PS – Don't forget to check out your June Monthly Stars at www.stellastarwoman.com to see what's coming up for you this month.
Happy Stargazing
Stella Woods